FREE ONSITE WATER REUSE ASSESSMENT
Request a project-specific savings assessment
Receive a free assessment of ROM cost, area requirements, water savings potential, and learn the payback period and ROI for any upcoming projects.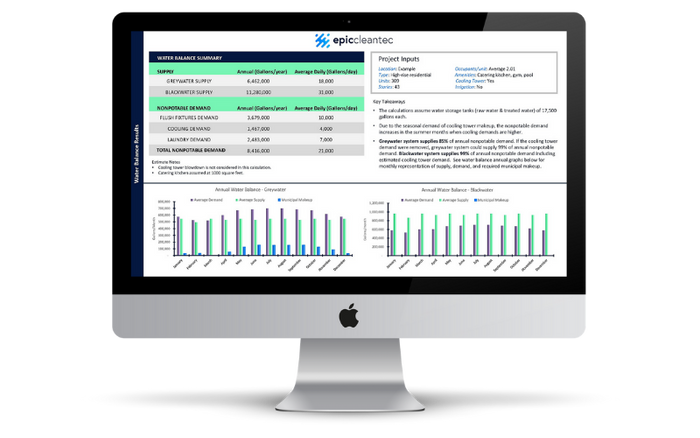 ROM SYSTEM COST
Assessments include cost estimates for the full scope of the project, including the design, permitting, installation and more.
ROI POTENTIAL
Learn about the system payback period for greywater or blackwater system options compared to conventional water & sewer fees.
WATER BALANCE
Understand the annual water usage for your project and the impact an onsite water reuse system can have using our water balance summary.
UTILITY & NET SAVINGS
Receive annual utility and net savings potential for greywater and blackwater systems based on gallons used per day or per year.
ABOUT EPIC CLEANTEC
Epic Cleantec provides real estate developers and building owners with turnkey onsite greywater and blackwater reuse systems that recycle 50-95% of a building's wastewater for non-potable applications, reducing utility costs and showcasing sustainability efforts.
Our technology produces three sustainable outputs:
Recycled water for non-potable applications
Recovered energy from wastewater heat
Repurposed high-quality, carbon rich soil amendments
Our team serves as a single point of accountability to reduce project cost risk by overseeing all aspects of the process, including: design, engineering, permitting, regulatory approvals, building integration and installation support, and ongoing operations of onsite water reuse systems.

GET STARTED WITH A FREE SAVINGS ASSESSMENT TODAY!